8 Touring Trails to immerse yourself in Phillip Island's arts, food, walks, wildlife and attractions!

Uncover eight touring trails to immerse yourself in Phillip Island & Bass Coast's arts, food, wildlife, nature and attractions!
In under two hours from Melbourne, Phillip Island's compact size means this Island packs a punch for value, offering a diverse range of things to do and see. Not sure where to start? You're in luck; we've done the planning for you with our new Phillip Island and Bass Coast Touring Trails.
So why not linger a little longer and spend several days in the region exploring!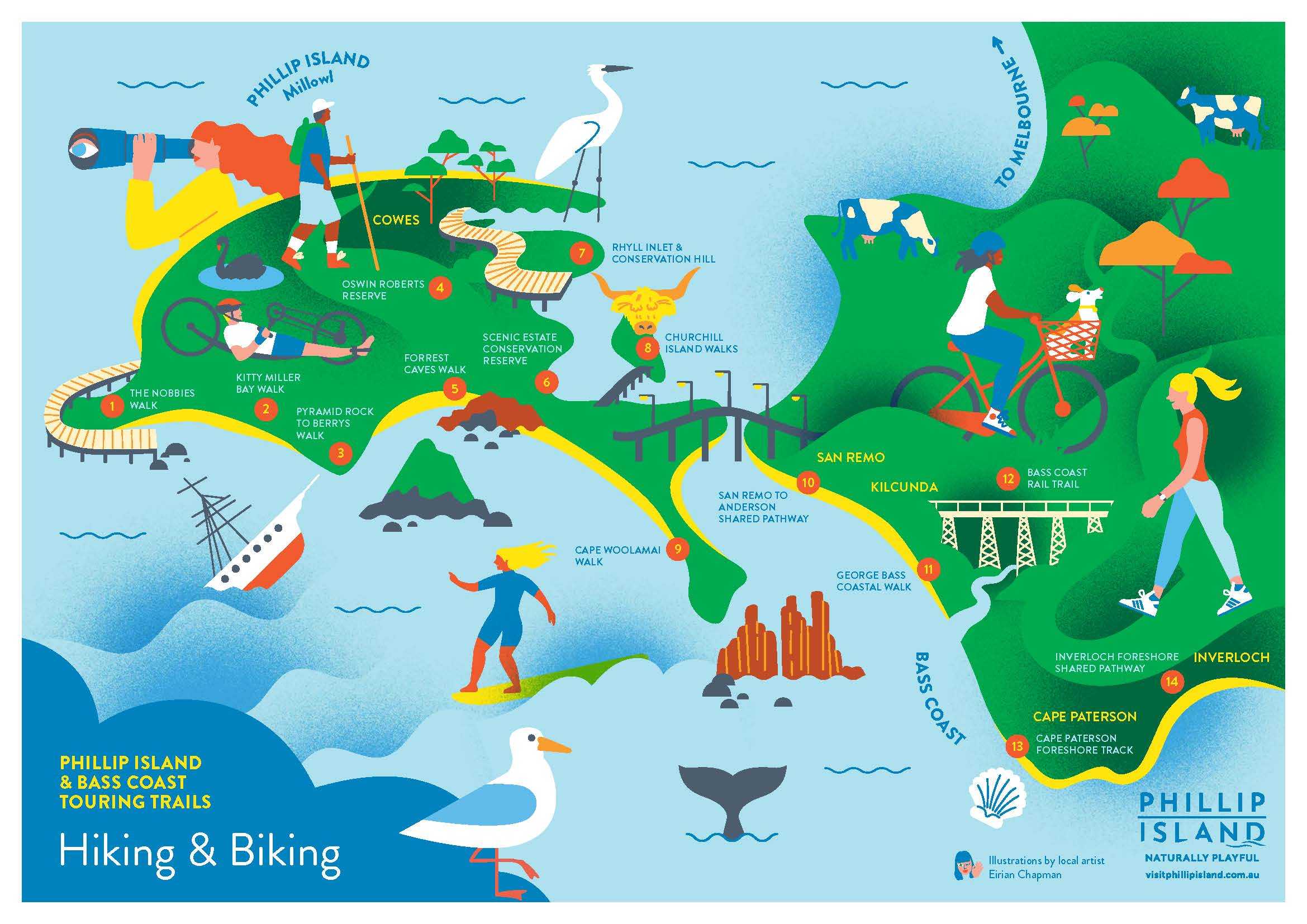 Discover the region's best hikes and rides on the Hiking and Biking Trail, including the Cape Woolamai Walk, Pyramid Rock Walk, George Bass Coastal Walk and the Bass Coast Rail Trail. For avid bird watchers, uncover the best places to spot a range of species Twitcher Trail.
For groups, the Family Fun Trail includes all of Phillip Island's favourite attractions, from boat cruises, go-karting and scenic flights, to the famous Little Penguins, chocolate factory and mazes. For wildlife enthusiasts, the Wildlife Wander Trail highlighting the region's bona fide wonderland of Australian native wildlife, including koalas, seals, wallabies, penguins, and echidnas.
For foodies, discover the producers and makers behind some of the regions tastiest produce on the Tasting Trail. Fill your empty esky or picnic basket with homemade cheeses, fresh seafood, local produce, wines and craft beers. If you would rather have the work done for you, come with an empty belly and indulge your way around Phillip Island and San Remo on the Drink and Dine Trail.
And finally, for art devotees, be inspired by local artists on the Artist and Creators Trail as you explore your way around Phillip Island and Bass Coast. With Phillip Island as your home base, embark on the Bass Coast Discovery Trail and uncover the hinterland villages and coastal hamlets of the region. From destination dining spots and vintage shops to seaside cafes and idyllic beaches, you'll be sure to discover something new and be inspired along the way.