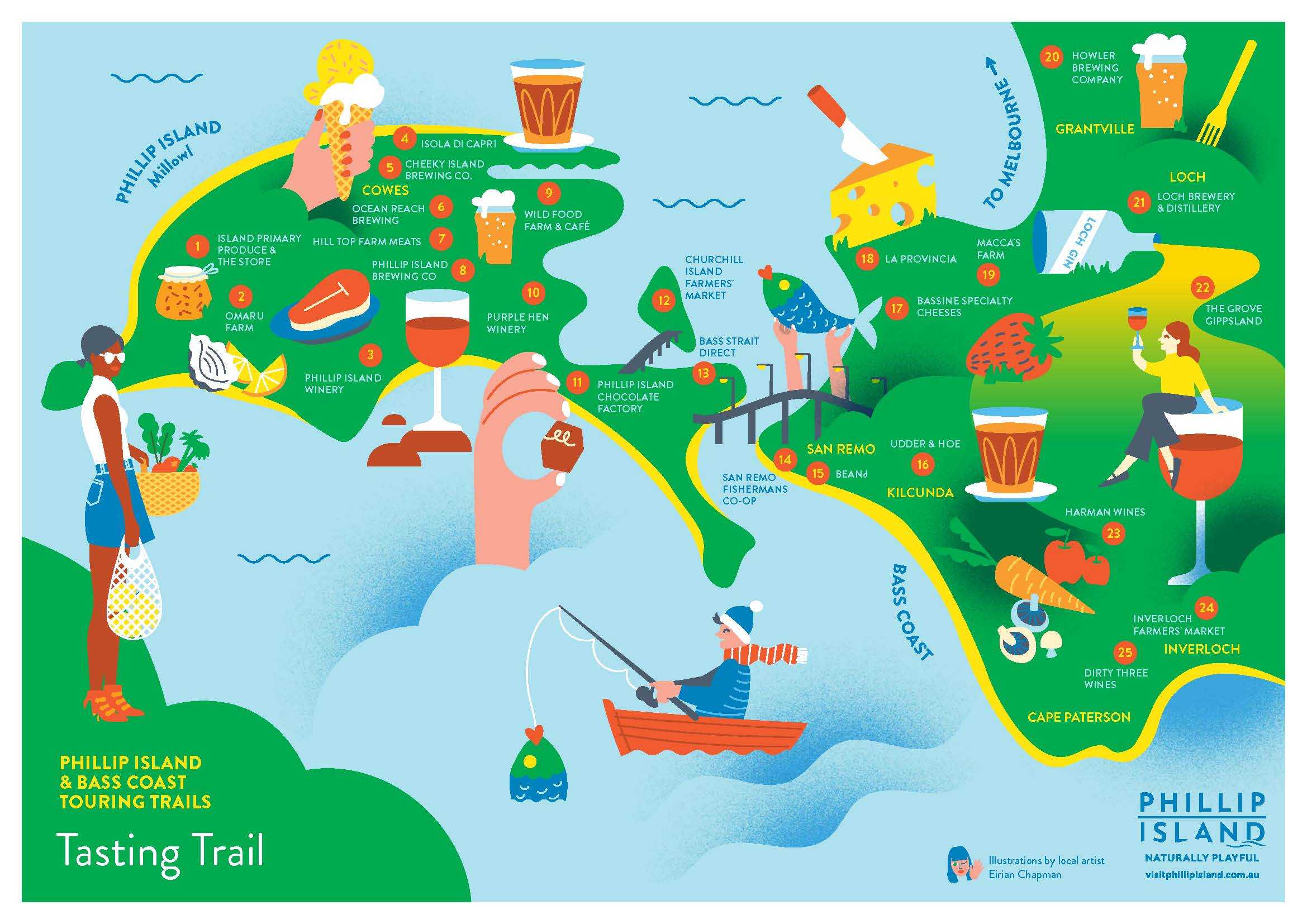 LOCAL PRODUCE
Gourmet staples, locally grown fruit & veg plucked by hand from the earth, paddock to plate organic meats, purveyors of fine foods including cheeses, breads, pastries and more, there's a bounty of delicious opportunities to source locally grown produce scattered around the region.
- Island Primary Produce and The Store (1.)
- Hilltop Farm Meats (7.)
- La Provincia (18.)
- Udder & Hoe (16.)
- Bassine Specialty Cheeses (17.)
- The Grove Gippsland (22.)

WINE
The boutique, family-owned wineries of Phillip Island and Bass Coast have each established a solid reputation for their elegant, varietal wines. Stop by the cellar doors to taste, shop, and while away an afternoon over a grazing platter and a bottle of premium, cool climate wine.
- Phillip Island Winery (3.)
- Purple Hen Winery (10.)
- Dirty Three Wines (25.)
- The Gurdies Winery (26.)
- Harman Wines (23.)
BREWERIES & DISTILLERIES
Small batch, hand crafted beers with distinct Island flavours. Renowned gins, rare vodka and single malt whiskies made by traditional methods with modern ingenuity. The independent distillery, tap houses and breweries of the region offer a chance to meet the passionate creators, sample a selection of local beers with a tasting paddle, and get a behind the scenes peek of where the magic happens.
- Ocean Reach Brewing (6.)
- Phillip Island Brewing Co. (8.)
- Cheeky Island Brewing Co. (5.)
- Howler Brewing Company (20.)
- Loch Brewery & Distillery (21.)
FRESH SEAFOOD
Super fresh, locally caught seafood straight off the boat! With a mouth-watering range of seafood plucked from the pristine waters of Bass Strait, the region's seafood suppliers provide a huge selection of the best quality seafood sourced directly from local fishing boats in San Remo.
- Bass Strait Direct (13.)
- San Remo Fisherman's Co-op (14.)
FARMS
Our farm experiences allow you to connect with nature and learn how food is grown and produced in the region, shop directly from the farmers and even pick your own fresh produce. Nothing beats farm fresh!
- Omaru Farm (2.)
- Macca's Farm (19.)
SWEETS & SPICES
Wander bushfood trails, try native herbs and spices, explore an interactive world of chocolate, create your own flavour, pick up incredible handmade fudge to take home, and end your day by grabbing a homemade gelato and wandering out along the pier to watch the sunset. Island life is pretty sweet!
- Wild Food Farm (9.)
- BeanD (15.)
- Isola di Capri Gelateria (4.)
- Phillip Island Chocolate Factory (11.)
FARMERS' MARKETS
Regular markets showcase the best local produce grown and made in Phillip Island and Bass Coast. With colourful stalls offering up organic fruit & veg, cheeses, free range eggs, ready-made meals, olive oil, honey, artisan breads, meats and plants, mixed with live music, picturesque locations and a relaxed coastal vibe.
- Churchill Island Farmers' Market (12.)
- Inverloch Farmers' Market (24.)


We acknowledge the Traditional Custodians of this land, the Bunurong people