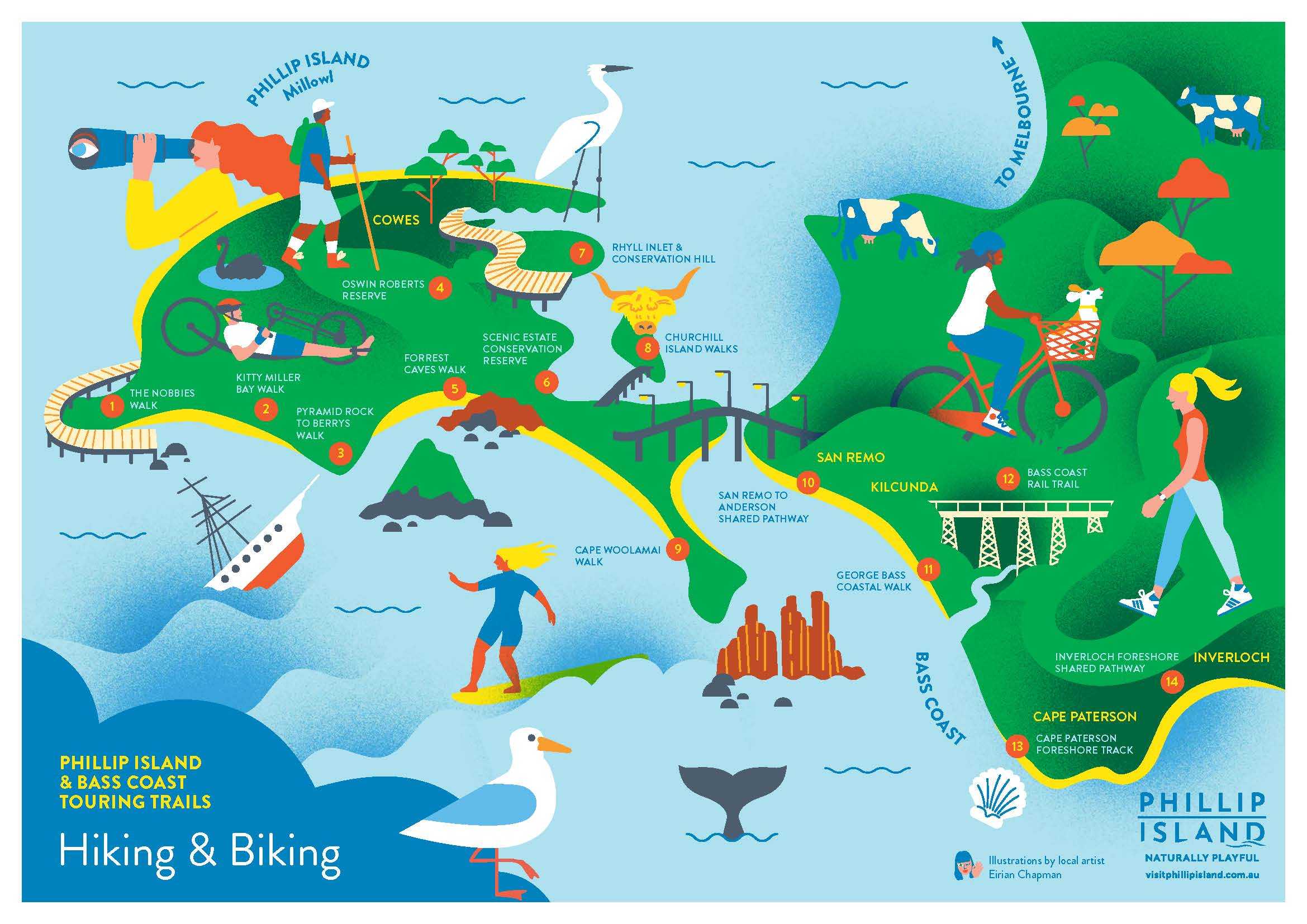 The Nobbies has a maze of boardwalks offering jaw-dropping views of the Island's wild and rugged coast. Pause for a moment on one of the viewing platforms to take it all in, be 'wowed' by the blowhole - an amazing sea cave that thunders during big southern swells, and peek through a telescope out to Seal Rocks. With boardwalks and lookouts set amongst natural sea bird gardens, keep your eyes open for the Island's famous Little Penguins and Silver Gulls.
Difficulty: Easy

Rugged coastline, stunning ocean views and remnants of an ancient shipwreck. Running aground on the coast of Phillip Island over a century ago, remnants of the SS Speke shipwreck can be spotted from the Kitty Miller Bay Walk. Start from the Kitty Miller Bay car park walk left along the beach and rock platform; the wreckage is located just 900m from the car park. Enjoy the striking seascape of the Bay and the excitement of spotting the shipwreck, however, be sure to plan your walk as access is limited to low tide.
Difficulty: Moderate due to uneven rock surfaces
3. Pyramid Rock to Berry's Beach Walk
Rugged coastline adventures and sweeping views. This 5km return walk starts near Pyramid Rock - one of Phillip Island's southernmost points and a favourite of sightseers for the striking silhouette it casts against the waters of Bass Strait. Follow the clifftop trail, stopping along the way at the numerous viewing platforms, perfectly positioned to take in the stunning coastline before you.
Difficulty: Moderate
A great way to explore the bushland of Phillip Island! Oswin Roberts Reserves offers a series of walking and cycling tracks that provides an opportunity to spot a range of Island wildlife, including wallabies and birds. The three-track loops range from 1km - 4.5km return and offer a leisurely walk or ride through a tranquil bushland setting.
Difficulty: Easy

This wild ocean walk is a must for adventurous explorers. Head over the dunes from the car park and walk left along the beach to find the Forrest Caves - a network of sea caverns formed over millions of years as waves eroded the cliffs. Be sure to time your walk for low to mid tide as the Forrest Caves are not accessible at high tide.
Difficulty: Easy
6. Scenic Estate Conservation Reserve
It's called Scenic Estate for a reason! A beautiful conservation reserve with stunning views, a boardwalk takes you through a variety of endangered native grasslands, wetlands and indigenous plants, with a viewing platform overlooking the Churchill Island Marine National Park and Ramsar Wetland. Pack a picnic and make a day of it, taking advantage of the shelters and seating. The area consists of 1.5km of walking tracks and 195m of boardwalks.
Difficulty: Easy

7. Rhyll Inlet and Conservation Hill
Wander through a world-renowned habitat for migratory wader birds and other wildlife species at peaceful Rhyll Inlet. Along the Conservation Hill and Rhyll Inlet Walks you'll find an array of boardwalks that loop through the tranquil mangroves, saltmarsh and mudflats. Keep your eyes open for the resident spoonbills, oyster catchers, herons, egrets and cormorants.
Difficulty: Easy to moderate
Churchill Island's easy walking trails and cruisy cycling tracks are a great way to take in all the beauty of this little island off an island. With tranquil scenery, historic sites, wetland birds, lavender gardens, local Indigenous culture and the Island's famous Highland Cattle, the Churchill Island Loop (5km) is an easy stroll around the island, and there are a number of shorter walks including the North Point Loop (2.5km), and the Wadjil'garook Wetland.
Difficulty: Easy

Cape Woolamai is a walker's wonderland with an array of hiking trails making up the full 8km circuit. Trails to explore include the Pinnacles Walk, Old Granite Quarry Walk and Cape Woolamai Beacon Walk - which takes you up to the highest point on the Island for spectacular, panoramic views. The area is home to a range of wildlife and is a wonderful spot for whale watching in winter. Walk left along the beach from the car park, for about 1km, then take the stairs up and follow the signs for your chosen trail.
Difficulty: Varying. Easy to Intermediate

10. San Remo to Anderson Shared Pathway
Along this shared path from San Remo to Anderson, you will see some of the most spectacular views of Western Port, San Remo and the Phillip Island Bridge. Walk or ride the 8km return trail starting at either San Remo or Anderson.
Difficulty: Moderate to difficult due to steep inclines
One of the most magnificent walks in the region, The George Bass Coastal Walk offers panoramic coastal views, as the trail sits high above the pounding surf of Bass Strait. Starting in San Remo or Kilcunda, the clifftop path follows the route of George Bass' coastal discovery voyage over 200 years ago, offering truly breathtaking scenery. 7km one-way or 14km return.
Difficulty: Moderate to Difficult

12. Bass Coast Rail Trail
One of the best ways to explore the region is by jumping on your bike and following the Bass Coast Rail Trail - all 23 kilometres of it! Claiming the title of Victoria's only coastal rail trail, the trail showcases the region's rich history against stunning backdrops and coastal views. The trail runs through the hinterlands of Wonthaggi, past the sand dunes of Dalyston, across the majestic Kilcunda Trestle Bridge and all the way to the breathtaking ocean views of Woolamai.
Difficulty: Moderate

13. Cape Paterson Foreshore Track
Along the Cape Paterson Foreshore Track, you'll encounter views of the coastline and a variety of spectacular scenic clifftop lookouts. Be sure to pack your swimmers so you can wander down to the beach to cool off in Cape Paterson's famous rock pools including the 'swimming pool' near the boat ramp, blasted from rock platform by miners in 1910!
Difficulty: Easy

14. Inverloch Foreshore Shared Pathway
Walk, jog, ride and play - the Inverloch Foreshore Shared Pathway is where coastal fun flows! Running for 2.5km between Cuttriss Street and the Ayr Creek Bridge, the pathway has a number of access points to the foreshore, and passes by the Rainbow Park playground, picnic areas and four exercise stations. However you choose to enjoy the Pathway, you'll be treated to beautiful views of Anderson Inlet and Point Smythe along the way.
Difficulty: Easy

We acknowledge the Traditional Custodians of this land, the Bunurong people