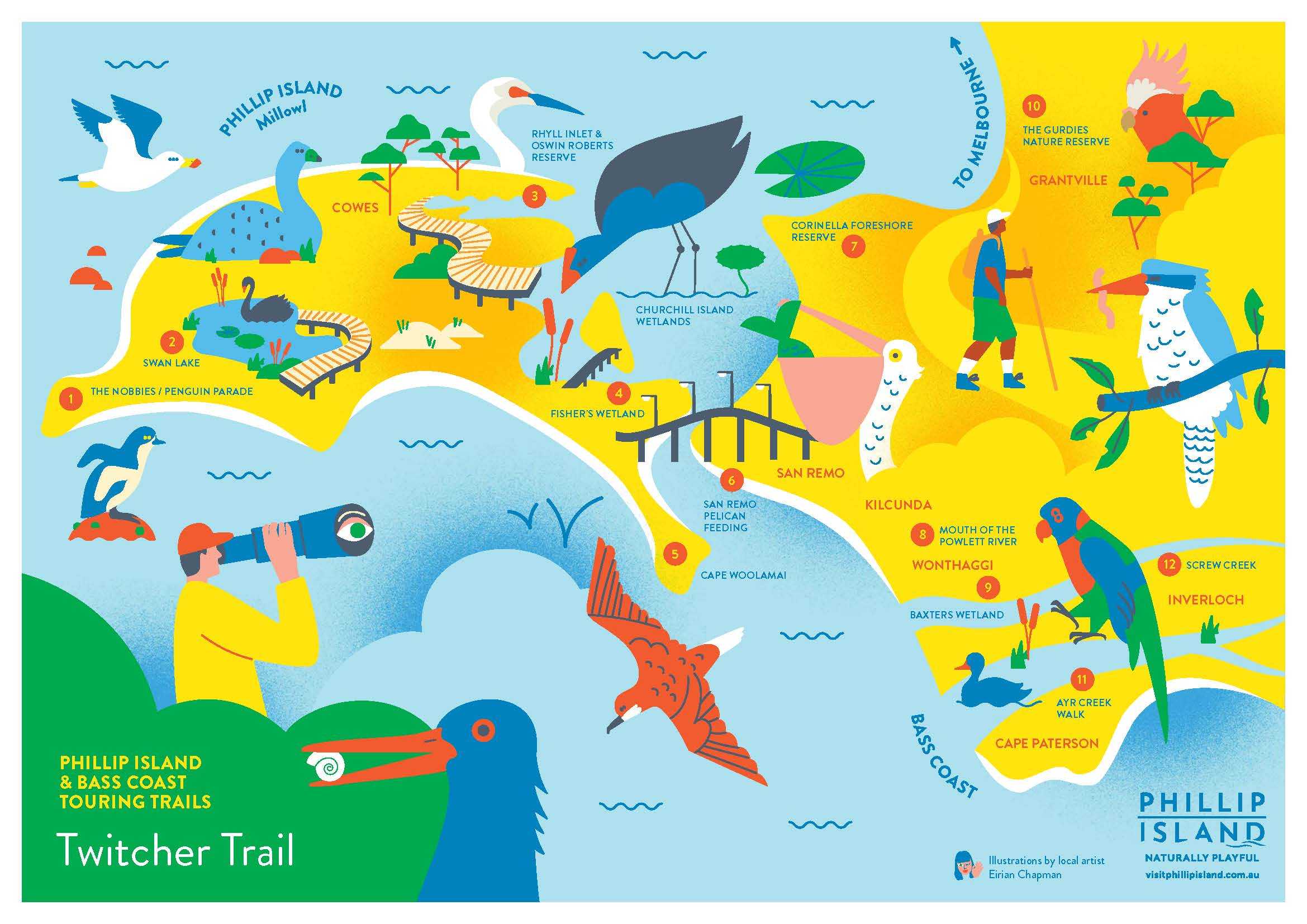 1. The Nobbies / Penguin Parade
Stroll along The Nobbies' famous boardwalks, absorbing coastal views at lookout points set amongst natural sea bird gardens. It's a popular area for breeding colonies of a variety of seabirds, including Little Penguins and Silver Gulls. Pause for a moment on one of the viewing platforms to take in spectacular views of the Island's wild and rugged coastline, be 'wowed' by the blowhole - an amazing sea cave that thunders during big southern swells, and peek through a telescope out to Seal Rocks.

2. Swan Lake
On the way out to the Penguin Parade, look out for the turn off to Swan Lake on the south side of the main road. From the carpark, follow the short, well marked track through coastal bush to two bird hides looking onto Swan Lake. Wander around the peaceful lake and take your time to find a great range of ducks, teal, Cape Barren Geese, wrens, grebes and raptors.
3. Rhyll Inlet and Oswin Roberts Reserve
A great way to explore the bushland and birdlife of Phillip Island and an ideal spot for a family adventure! Oswin Roberts Reserve is thriving with Island wildlife and birdlife, including a variety of honeyeaters, parrots, thornbills, pardalotes, silvereyes and other bush birds. After exploring the Reserve, wander through a world-renowned habitat for migratory wader birds and other wildlife species at peaceful Rhyll Inlet. You'll find boardwalks that loop through the tranquil mangroves, saltmarsh and mudflats, where you'll spot spoonbills, oyster catchers, herons, egrets, cormorants, and a range of international waders can be seen in Summer. Pack your telescope or good binoculars for this one.

4. Fisher's Wetland
Tucked away on the left side of the road to Churchill Island, Fisher's is an expansive wetland and captivating landscape attracting various water-dwelling bird species. A number of walking tracks, boardwalks, bird hides and elevated platforms make it easy to enjoy the varied scenery and spot the birdlife, which includes geese, black swans, pelicans and purple hens.

Hooded Plovers are often seen on the ocean beaches and the walk to the headland often rewards birdwatchers with views of a range of raptors, including the White-bellied Sea-Eagle. Keep a lookout for albatross and other pelagic birds, especially in winter. At dusk, from September to April, vast flocks of Short-tailed Shearwaters can be seen returning to their rookeries on the clifftops.

6. San Remo Pelican Feeding
Every day at midday, on the foreshore outside the San Remo Fisherman's Co-op, you can see a big group of excited hungry pelicans swaying their big beaks and squabbling for their fresh fish lunch. While fun to watch, the Pelican feeding is not just about entertaining the crowd - it's a great opportunity to learn about the Pelicans, their diet and lifestyle, and how we can improve conservation and environmental efforts to protect them, and similar species.

7. Corinella Foreshore Reserve
Beach and seabirds roost and feed among the mangroves, while bush and scrub birds can be spotted amongst the heathland. From Settlement Point, follow the track along the southern coast on the high cliffs. The track passes through a variety of habitats, including low coastal scrub, native grassland, she-oak dominated coastal woodland and Coastal Banksias. If you're lucky, you could even sight a rare sea eagle.

8. Mouth of the Powlett River
Situated on the Bass Highway between Kilcunda and Wonthaggi, this is an excellent site, with a range of habitats attracting different and interesting bird species - Ocean beaches are loved by the Hooded Plovers, the river floodplains attract Blue-winged and Orange-bellied Parrots, while honeyeaters and thornbills can be spotted in the banksia groves.
9. Baxters Wetland
The bird hide at Baxter's Wetland offers excellent morning views of the area's Magpie Geese, Glossy Ibis and other species. To reach the Wetland, drive to the western end of Campbell Street and walk a short distance through regenerated bush.

10. The Gurdies Nature Reserve
At 260 hectares and with multiple walking tracks, The Gurdies Nature Reserve represents some of the largest remaining areas of native vegetation on the eastern shore of Westernport. It is home to a variety of animals and birdlife including Bassian Thrush, Rufous Fantail, Eastern Whipbirds, parrots, thornbills, robins, treecreepers, sittellas and honeyeaters. Raptors can be seen overhead and Powerful Owls have also been sighted.

11. Aye Creek Walk
The Ayr Creek Walk is home to an abundance of birdlife, including Honeyeaters and Black Shouldered Kites. A peaceful and beautiful trail through native bush and wetlands, it leads down Nesci Court towards Royal Parade, across the road and along another bush trail to Toorak Road. From here, walk down Evergreen Avenue, pick up the track from the corner at Beach Avenue and wander through to Surf Parade, before crossing the road to the beach.

12. Screw Creek
A number of small bush birds, gulls, egrets, White-faced Herons, honeyeaters and the occasional raptor can be seen at Screw Creek, as well as emu-wren or Orange-bellied Parrot in the right season. If you take the walk along the creek bank, you also have the opportunity to see grebes, ducks and other waterfowl. An excellent walking track leading through the camping area from The Esplanade and across the creek takes you up to the Bluff where there are very good views over the inlet to Venus Bay and Point Smythe.


We acknowledge the Traditional Custodians of this land, the Bunurong people