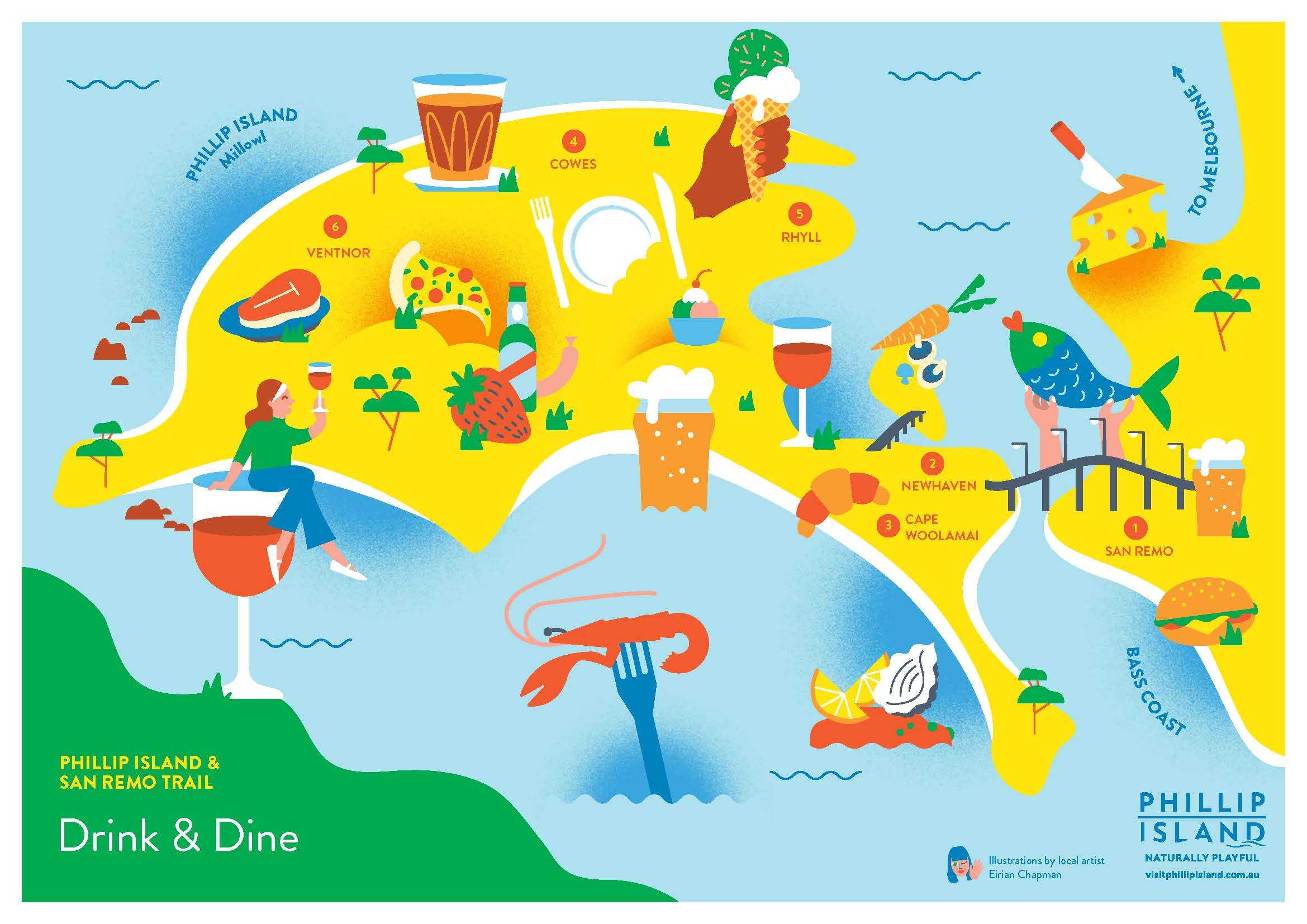 1. San Remo:

The gateway to Phillip Island. Located just before the bridge, San Remo's main strip offers a lively array of relaxed cafes, traditional pubs, cocktail bars, modern restaurants and epic fish & chips. A great spot to kick back with a drink, soak up the atmosphere and plan out your Island adventures.
BEANd
Beachside Bakehouse
Westernport Hotel (L) (M)
San Remo Hotel (L) (M)
San Remo Fisherman's Co-op
Kelp Dinning (L)
2. Newhaven:
Welcome to the Island! Just over the bridge, Newhaven is where you will find the popular Cape Kitchen and Saltwater, along with their magnificent water views.
The Cape Kitchen (L)
Saltwater Phillip Island (L)
The Haven Wave Cafe (L)
Island Pies
Seaside Provider
3. Cape Woolamai:
After a day of surfing or a walk around Cape Woolamai, drop by Bang Bang Bar & Food for a mouthwatering Asian inspired menu and cold brews. If you love a good quality burger, then head to Island Burger Bar and grab a bite in their funky beer garden.
Bang Bang Bar & Food (L)
Island Burger Bar (L)
The Wooli Tavern (L)
4. Cowes:
The central hub of Phillip Island's food and drink scene, Cowes is home to waterfront restaurants, boutique breweries, beachside pubs, coastal cafes and family eateries.
G'day Tiger
Waterboy Cafe (L)
M&O Cafe & Tapas
The Cheeky Goose Cafe (L)
Island Whole Foods
Beach HQ Bar & Restaurant (L)
Bani's Restaurant and Bar (L)
Pino's Trattoria (L)
Isola di Capri (L)
Hotel Phillip Island (C)(M)
North Pier Hotel (L) (M)
Ocean Reach Brewing (L)
Rusty Water Brewery Restaurant & Bar (L)
Grenache Wine Bar (L)
Youki's Japanese Restaurant & Takeaway(L)
La Porchetta (L)
Fig & Olive Steak and Seafood Restaurant (L)
Phillip Island RSL (L)
Fisherman's Wharf
Wing Ho Chinese Restaurant (L)
Wing Lock Chinese Restaurant (L)
Subway Cowes
Sombreros Tex-Mex Cantina (L)
Anerie (L)

5. Rhyll:
A little off the beaten track, Rhyll is a quiet fishing town and ideal spot to indulge in premium local produce and a glass of wine.
Wild Food Farm Cafe (L)
Purple Hen Winery (L)(M)

6. Ventnor:
Ventnor's coastal farmland provides an idyllic setting for a relaxing lunch, wine tasting and to stock up on gourmet staples.
The Store
Phillip Island Winery (L)(M)
Symbols - L = Licensed, C = Cocktails, M = Music

We acknowledge the Traditional Custodians of this land, the Bunurong people