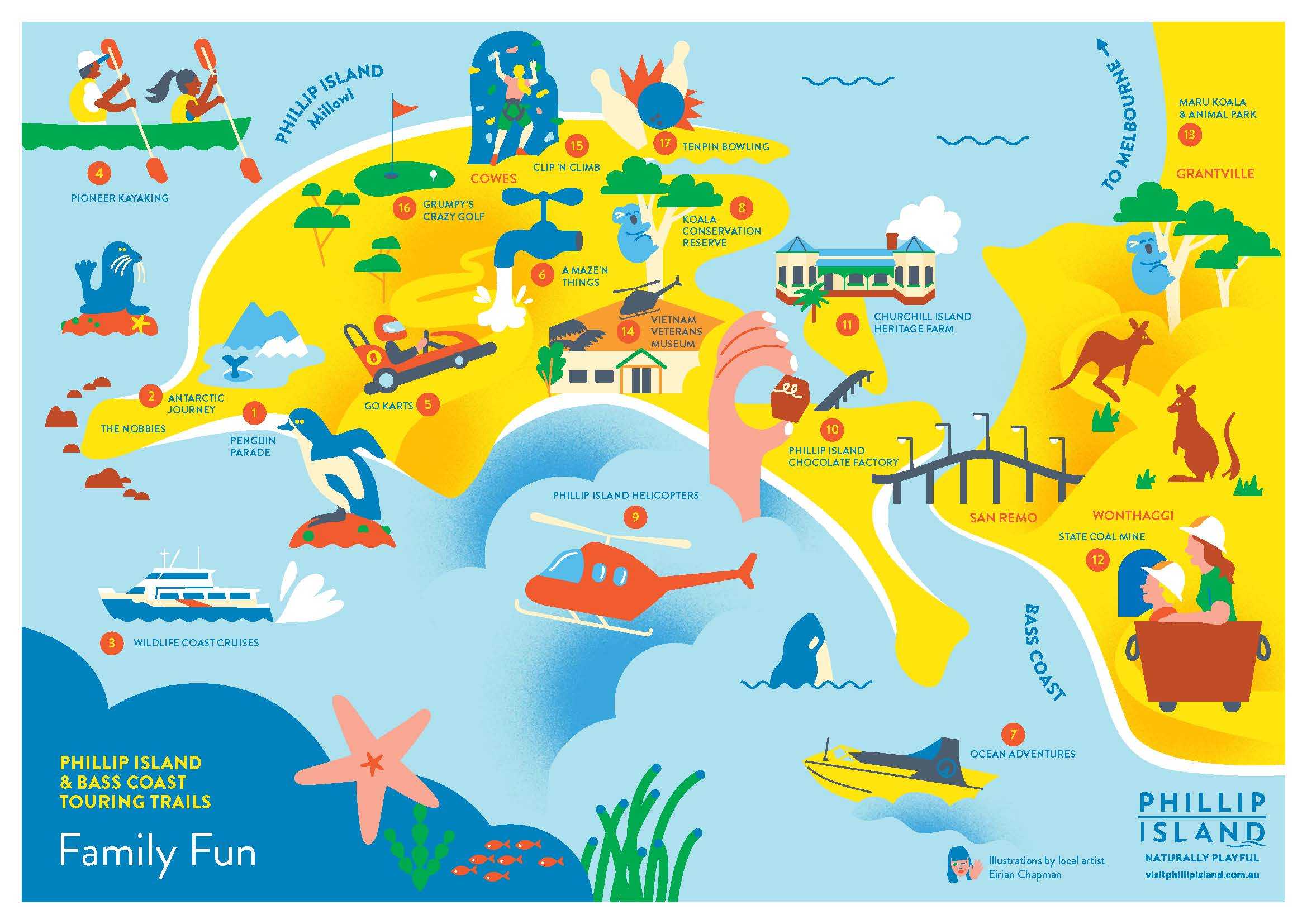 Australia's most popular wildlife attraction. Each night at sunset, the world's smallest penguins, the Little Penguins, emerge from the water and waddle ashore after a big day fishing at sea. The elevated boardwalks, stands and underground viewing allow you to enjoy all the 'penguin action' without disturbing them or their burrows.

Take a virtual journey into the wonderful world of the Southern Ocean and Antarctica at the Nobbies Centre. Antarctic Journey is a joint venture between Phillip Island Nature Parks and World Wildlife Fund (WWF) Australia with three levels of interactive and immersive experiences designed to entertain and inform the whole family. Learn about the animals, hear the sounds of the ocean, feel the freeze and play with orcas and penguins in an augmented reality.

Experience Phillip Island from the water aboard a Wildlife Coast Cruise. With several spectacular cruises around the Island, you will encounter a range of wildlife in their natural environment including seals, dolphins, whales and birdlife, while getting a different perspective of the Island's fascinating coastline.
Cruises include: Seal Watching Cruise, Cape Woolamai Cruise
Winter Whale Watching Cruise and Twilight Bay Cruise.

Exploring Phillip Island's coastline by sea kayak is a wonderful way for families to take in the natural beauty of the coast and waterways. Pioneer Kayaking offers a range of guided tours that allow you to experience the varying natural environment of the Island's coast and wetlands.

5. Grand Prix Circuit - Go Karts
The ultimate go-karting experience! The 750m Phillip Island Go Kart track is a replica of the world-renowned Phillip Island Grand Prix Circuit and sits alongside the track, overlooking Bass Strait. With smooth curves and a super-fast straight just like the real deal, the track takes in some of the most breathtaking coastline on the Island.


A Maze'N Things is an exciting world of illusions, puzzles, mazes, obstacles and mini golf that provides hours of fun, magic and adventure. Challenge your mind exploring the games of Puzzle Island, get lost wandering through kilometres of maze, try and solve the illusions of Magic Manor, swing for a hole-in-one on the Maxi Golf course and take on the obstacles of the high ropes course, Sky Trail.

Experience awe-inspiring Cape Woolamai from the water on an action-packed boat tour! See sea caves, granite cliffs and ocean wildlife while learning about the local history and environmentally significant areas through the expert onboard commentary. Ocean Adventures offers a range of experiences, including; The Drift, The Thundercat and The Dive.

Wander the tree-top boardwalks to watch sleepy koalas up close in their natural habitat. Take a walk through the woodlands and enjoy the abundant birdlife, wallabies, echidnas and bats. The Koala Conservation Reserve offers a range of family-friendly activities and opportunities to explore lush native bushland and see iconic Australian wildlife in their natural habitat.

See Phillip Island and Bass Coast from the air with Phillip Island Helicopters. Experienced pilots fly their modern fleet of helicopters on tours over Cape Woolamai, Seal Rocks, the Australian Grand Prix Circuit, Summerland Bay (home of the Penguin Parade) and kilometres of gorgeous coastline.

10. Phillip Island Chocolate Factory
A celebration of all things chocolate, with interactive games, fun and informative exhibitions and the opportunity to make your own chocolate on the spot. Enjoy chocolate samples as you move through a self-guided exploration of the wonders that come from the humble cocoa bean. Don't leave before visiting Panny's café and the Factory's chocolate shop with a wonderful selection of delicious treats and souvenirs to take home.

11. Churchill Island Heritage Farm
With tranquil scenery, walks, historic sites, wetland birds, lavender gardens, local Indigenous culture and the Island's famous Highland Cattle, a visit to Churchill Island is an enriching adventure. Visit the old homestead or experience the daily farming activities including cow milking, sheep shearing, whip cracking, working dogs and wagon rides.

12. Wonthaggi State Coal Mine
Venture back in time, through a network of underground tunnels to get hands-on at the coal face and learn how Victoria's hard-working miners extracted valuable 'black gold' from the land over 100 years ago! Operating from 1909 to 1968, the State Coal Mine produced almost 17 million tonnes of coal for Victoria's industries and railways, making it a vital piece of the region's social and economic development, and an important part of our cultural heritage.

13. Maru Koala and Animal Park
Maru is a fun-filled celebration of Australia's native wildlife with a range of nature-based experiences, entertainment and opportunities to get hands on with the animals. Pat a koala, hand feed kangaroos and wallabies, get wrapped up in a python snake or cuddle a dingo.

14. National Vietnam Veterans Museum
The NVVM seeks to remember, interpret and understand the experience of the veterans of the Vietnam conflict and the enduring impact of the war on society. The museum is home to a huge collection of artefacts interpreted with information, imagery and audio visual devices. It will keep you, your family and friends engaged for the length of your visit.
15. Clip'N Climb Phillip Island
Reach new heights as you climb 10 metre visually stunning and individually themed wall challenges. Clip 'n Climb challenges will keep everyone engaged from beginners to experienced climbers. An incredibly unique venue for adventurous individuals or groups that want to keep active and have fun.


Grumpy's Crazy Golf provides minigolf entertainment for your family in any weather. This undercover entertainment area offers a fully Covered 18 holes minigolf course that is challenging and fun for all. A clean environment for Adults and Kids to play in."Par None"
17. Phillip Island Tenpin Bowling
Visitors can enjoy the social and competitive activity of tenpin bowling and a range of other interactive entertainment. Pool tables, table tennis and air hockey are just some of the other activities that can be enjoyed at the air-conditioned Tenpin Bowling & Entertainment Centre.