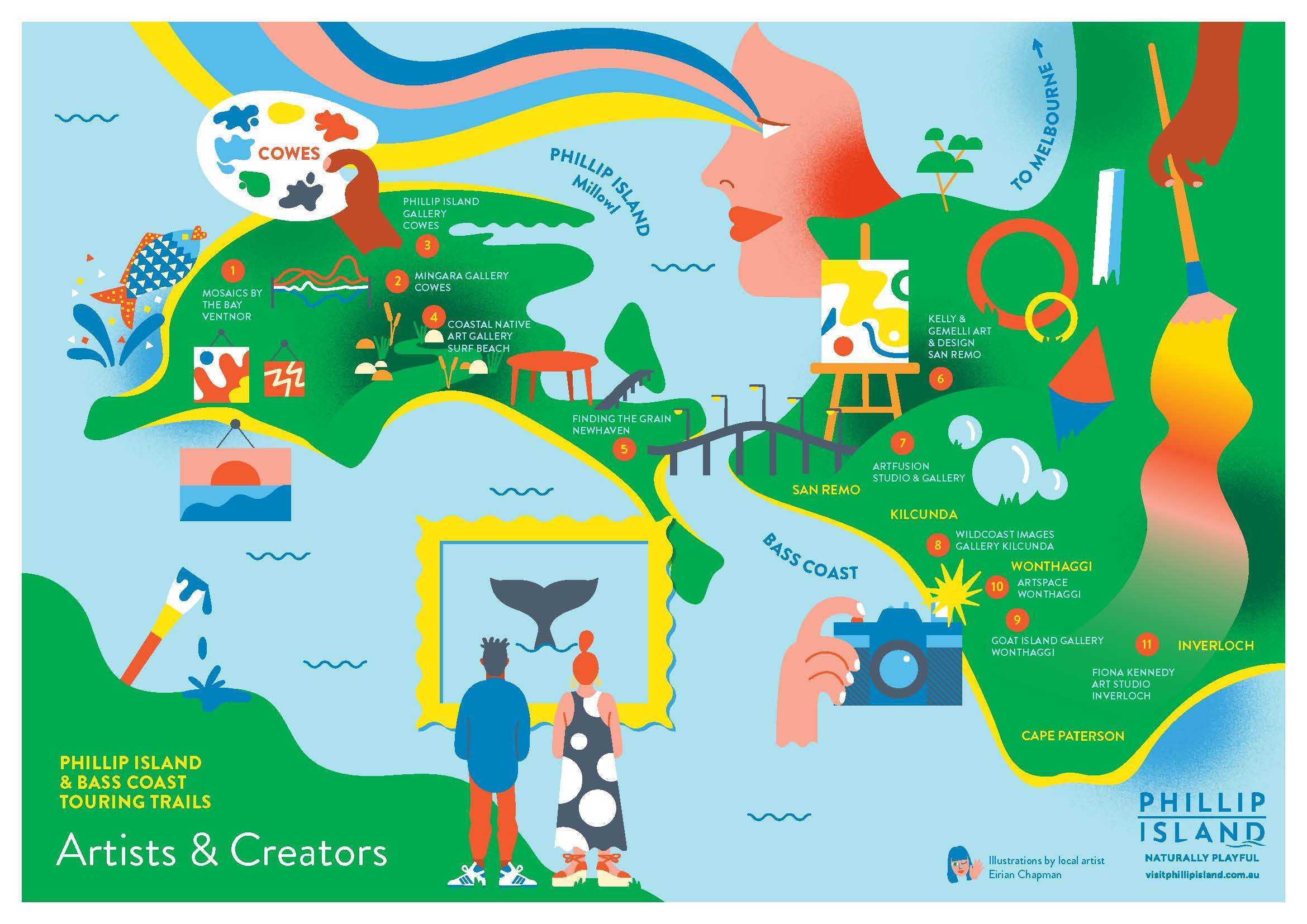 Mosaics artist Heather Fahnle follows her artistic passions from her seaside home studio and shares her love of mosaics at her one-day workshops. Inspired by her coastal surroundings, Heather shares stories of her world through her work, using small pieces to create the bigger picture.

Studio open by appointment.

2. Mingara Gallery
Located in the heart of Cowes, Mingara Gallery displays a varied selection of Australian contemporary art, sculptures, fine jewellery, exceptional homewares and ceramics. The Gallery represents a stylistically varied selection of Australian contemporary art of the highest calibre. It aims to showcase the talents of Australian artists, designers and craftspeople, and is particularly committed to nurturing its relationships with local artists.

Location: 242 Thompson Ave, Cowes
3. Phillip Island Gallery
A wide selection of beautiful, innovative and affordable art and craft works by the local people of Bass Coast is showcased at Phillip Island Gallery. You will find works from award-winning photographers, painters, sculptures, jewellers, mixed media artists and woodcrafters, with pieces available for purchase. An inspiring celebration of the artistic talents of the region.
Location: 56-58 Church Street Cowes.

4. Coastal Native Art Gallery
The inspiration of Jacquie Chambers' art is evident as soon as you enter her Surf Beach studio. The walls are adorned with paintings of coastal scenes and the wonders of the ocean. Jacquie paints from photos, using acrylic on canvas she captures the sea - its many creatures, waves, storms, surfers, seascapes, wildflowers and sunsets. Jacquie has original paintings, canvas prints, gift cards, postcards and placemats for sale from her studio.

Studio open by appointment. Ph. 0432 060 528

Finding the Grain specialises in uniquely crafted, reclaimed timber furniture and gallery pieces. Dedicated to crafting sustainable and beautiful pieces to last a lifetime, timber is salvaged from local demolition sites around Phillip Island, allowing it to live on rather than head to landfill. All material is used - the offcuts from tables and chairs made into chopping boards and picture frames, and the sawdust shared with locals for gardening and composting. Nothing is wasted. Owner and craftsman, Mark Davis can personalise and custom design all furniture pieces.

Location: 40 Phillip Island Rd, Newhaven.


Kelly & Gemelli – Art and Design is a contemporary art gallery with continually changing exhibitions showing figurative, abstraction and conceptual art constructed with alternative media. Located in San Remo, the gallery has 180 degree views over the waters of Westernport.
Location: 57 Phillip Island Rd, San Remo

The working studio of glass maker Marlene Abela and steel sculptor Andrew Kasper, Artfusion Studio and Gallery is a living, breathing creative workshop and showroom featuring works of sculpture and beautiful glass art. Artfusion caters for those wishing to view or buy existing work or commission a personal piece.

Location: Anderson Rise, Anderson


8. Wildcoast Images Gallery
Award-winning photographer, Tony Middleton displays large, high resolution landscape and aerial photography in his purpose-built boutique gallery in Kilcunda. His talent of capturing the interplay of light with natural beauty powerfully presents 'moments of time' that draw you in. Many of the exhibition artworks are wild and vibrant areas of Phillip Island and the greater Gippsland region.

Location: 3390 Bass Hwy, Kilcunda

9. Goat Island Gallery
Located in a delightful pocket of land outside Wonthaggi, Goat Island Gallery & Sculpture Garden is a place that rewards a visit. The acres of gardens, pastures and wetlands that surround the gallery make it an ideal setting to inspire the works of contemporary painter and sculptural artist, Frank Schooneveldt. For visitors, it is a tranquil and surprising place to share that experience. The resident goats, Esmerelda & Dulcie lend their name and personalities to Goat Island Gallery.

Location: 18 Boundary Rd, Wonthaggi.


10. Artspace
ArtSpace Wonthaggi offers quality artworks by Gippsland artists and a gift shop stocked with original textiles, ceramics, jewellery, glassware and woodwork. The ArtSpace is a profit-for-purpose organisation, managed and staffed voluntarily by a team of artists and community supporters. Their driving force is to offer opportunities for local artists to connect with collectors, and to provide a vehicle for the ongoing pursuit of art in the region.

Location: 1 Bent St, Wonthaggi.

11. Fiona Kennedy Art Studio
Fiona Kennedy's large canvas oil paintings have been described as 'Art from the Heart'. Her colourful and ethereal works are vibrant, symbolic and emotional, with inspiration drawn from the workings of nature. In her Inverloch studio, you will be warmly welcomed by Fiona and invited to wander around the original pieces and limited edition prints.
Location: 12 Beaton Pl, Inverloch