Phillip Island and Bass Coast Official Visitor Guide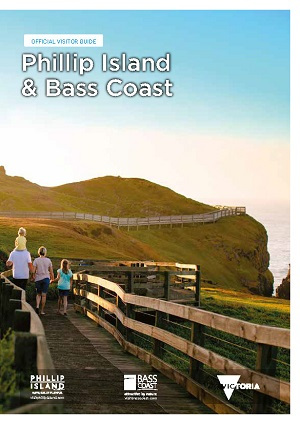 Copies of the 2020 guide are still available from our office or the Phillip Island Visitor Information Centre.

The 2022 visitor guide is currently in production.
120,000 copies are printed, one of the largest print runs in Victoria.
The Official Visitor Guide is supported by a comprehensive distribution plan, downloaded online from the visitphillipisland.com and visitbasscoast.com websites and viewed online on various platforms.
Exclusive DISTRIBUTION at City of Melbourne TOWN HALL Visitor Information Centre (replacing Federation Square and other individual brochures)
The 2022 Official Visitor Guide is a guide to motivate visitors and extend their stay to their visit to Phillip Island and Bass Coast. Whilst there is a whole range of digital information online there is still a very important place for printed Visitor Guides and other printed material.
Destination Phillip Island is committed to an extensive distribution strategy partnering with BDM (Brochure Distribution Management), T W Logistics and Phillip Island Brochure Distribution to ensure the guide is placed appropriately. This includes Visitor Information Centres, Rental Car Companies, Melbourne Airport, the NEW Melbourne Town Hall and RACV and other state affiliates.
For all brochure and OVG delivery orders please contact Serena on 0466 620 856 or email your order to [email protected]